In Remembrance of
Alfred Nicholas Le Noury
Date of birth:
17th April 1921
Service:
Royal Navy
Rank:
Able Seaman
Service Number:
P/SSX 30157
Joined Hood:
Late 1939 or early 1940
Left Hood:
24th May 1941 (loss of ship) (Able Seaman)
Biographical Information:
Alfred was born on 14th April 1921 in Guernsey, Channel Islands to Nicholas and Adale Le Noury. He had three siblings, Edna, Elsie and Raymond. The entire family with the exception of Edna evacuated Guernsey in 1940. They lived in Halifax, West Yorkshire for the duration of the war.
Alfred joined the Navy when he was 18. He is known to have served at H.M.S. Victory for training. He is believed to have joined Hood in 1939 or 1940. He was 20 years old at the time of his loss.
---
Additional Photographs
None at this time.
---
---
Guernsey War Memorial, St. Peter Port, Guernsey, Channel IslandsPhotos of the memorial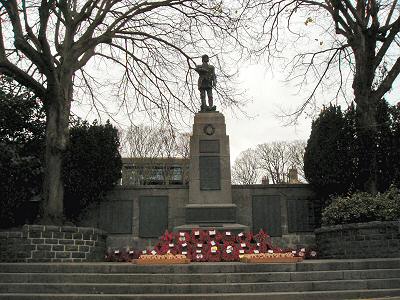 ---
Hood Chapel, Church of St. John the Baptist, Boldre, Hampshire, EnglandPhotos of the memorial
---
Portsmouth Naval Memorial, Southsea, Hampshire, EnglandPhotos of the memorial
The part of the memorial in which the Hood casualty names can be found.
(Panels 45 to 61)
Alfred's name is in Column 2 of Panel 48.
Detail of Alfred's name.
---
Sources
Commonwealth War Graves Commission
'Register of Deaths of Naval Ratings' (data extracted by Director of Naval Personnel (Disclosure Cell), Navy Command HQ, 2009)
His nephew, David Le Prevost (photo & information, August 2012)