In Remembrance of
John Joseph Quigley
Date of birth:
2nd September 1916
Place of birth:
Torbay, Newfoundland
Parents:
Thomas and Catherine Morey
Service:
Royal Navy
Rank:
Ordinary Seaman
Service Number:
P/JX 212487
Joined Hood:
Unknown
Left Hood:
24th May 1941 (loss of ship)
Biographical Information:
Jack, as he as known, was born on 2nd September 1916 to parents Thomas and Catherine Morey of Torbay, Newfoundland. He was listed at birth as "JE Quigley". He was a member of the Newfoundland Overseas Forestry Unit (NOFU No. 0408) and was later transferred to the Royal Navy. Hood is believed to have been his only ship. He is also believed to have been one of the ship's boxers.
He was 24 years old at the time of his loss.
---
Additional Photographs
None at this time.
---
---
Hood Chapel, Church of St. John the Baptist, Boldre, Hampshire, EnglandPhotos of the memorial
---
Newfoundland Book of Remembrance, , , VirtualPhotos of the memorial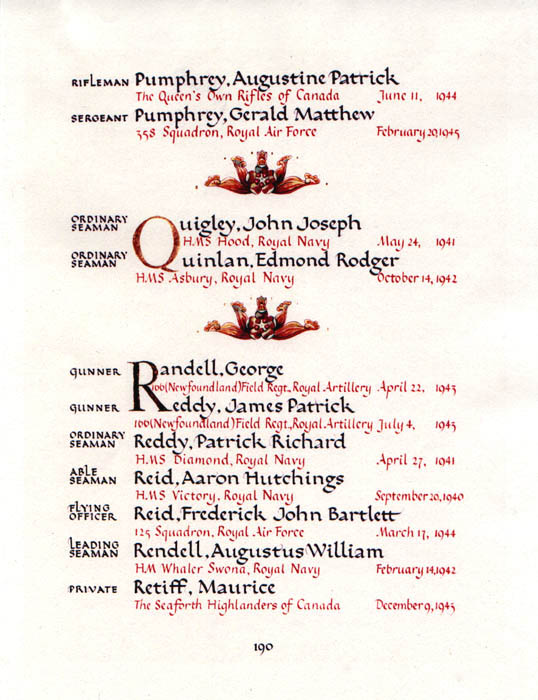 ---
Portsmouth Naval Memorial, Southsea, Hampshire, EnglandPhotos of the memorial
The part of the memorial in which the Hood casualty names can be found.
(Panels 45 to 61)
John's name is in Column 2 of Panel 58.
Detail of John's name.
---
Torbay War Memorial, Torbay, St. John East, NewfoundlandPhotos of the memorial
---
Sources
Commonwealth War Graves Commission
'Register of Deaths of Naval Ratings' (data extracted by Director of Naval Personnel (Disclosure Cell), Navy Command HQ, 2009)
Canadian Virtual War Memorial
Gene Quigley & Jim Roache (information, May 2006 & photo, August 2011)